Electrical Department
• Ballast
• Breakers
• Cleaners & Degreasers
• Commercial/Industrial Lighting
• Conduit
• Copper Building Wire
• Electric Motors & Controls
• Electrical Enclosures
• Electrical Fittings
• Electrical Tape
• Lamps
• Fans & Ventilating Equip
• Fire Extinquishers
• Flashlights, Batteries
• Fuses
• Heating & Cooling Equip
• Load Centers
• Safety Switches & Breakers
• Outdoor Lighting
• Metering Equipment
• Romex Staples
• Residential Lighting
• Time Controls, Photo Cells
• Tools
• Wiring Devices
• Wire Nuts, Lugs & Splices











Hardware & Plumbing Department
• Faucets
• Fiberglass Air Filters
• Galvanized Bolts
• Galvanized Pipe Fittings
• Hand Tools
• Ice Chests, Water Coolers
• Insert Pipe Fittings
• Oil Cans, Safety Cans
• Pad Locks
• Pipe Tools
• Pliers
• Plumbing Specialties
• Polybutlene Tubings
• Polymer Body Pumps
• Portable Water Pumps
• PVC Pipe and Fittings
• PVC Traps
• Roll Plastic
• Rules, Tapes
• Saw Blades and Files
• Water Hose and Fittings, Sprayers

Fastener Supplies

(Plain, Zinc, Galvanized, Stainless)
• Bolts
• Nuts
• Screws
• All Thread Rod
• Washers
Janitorial Supplies
• Brooms, Brushes, Mops
• Cleaning Chemicals
• Paper Products



Welcome to East Carolina Supply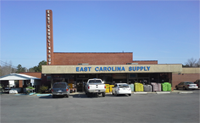 East Carolina Supply Company is located in Plymouth, NC and is a general line wholesale distributor that has been serving northeastern North Carolina since 1946.

What separates East Carolina Supply from other distributors in our area is free delivery on our trucks without fuel surcharges or minimum orders.

East Carolina Supply is also the home of the GENUINE PAPERMAKER knife that has been used throughout the paper industry since 1956.
• Absorbent for Spills
• Air Hose Fittings, Regulators
• Anchors & Fasteners
• Belt Lacing & Hooks
• C-Clamps & Stationary
• Cast Iron Water Pumps
• Cutting Equipment
• Drill Bits & Taps
• Floor Brushes, Wire Wheels
• Flush Valves
• Garden Tools
• Gasket Material
• Gate Valves, Ball Valves
• Hand Cleaner
• Industrial Paints
• Key Stock & Clamps


• Ladders
• Locks
• Lube Equip & Fittings
• Pipe Wrenches
• Pipe, Wire
• Power Tools
• Pump Pressure Switches
• Pumps
• Spray Lube
• Starter Fluid
• Submersible Sump Pumps
• Tin & Aviation Snips
• Vacuum Cleaners
• V-Belts, Water & Air Hose
• Water System Products
• Work Gloves